Holly Thompson
How I Can Help You
"97% of my business comes from my past buyers, sellers, and relocation companies. Thank you SO much for trusting me!"
I've helped over 350 families buy or sell their home in the Santa Clarita Valley in the last 16 years. With that experience, I've learned to anticipate the snags that can happen in a transaction and have put systems in place that prevent my buyers and sellers from having to go through them. There will always be obstacles in a transaction but I 100% believe that my sales are smoother from all I've learned over the years.
Los Angeles Magazine Real Estate All-Stars 2022 and 2023
Top 10 out of all Team and Individual Realtors at Re/Max of Santa Clarita  for 2022, 2021, and 2019
#1 Individual Realtor at Re/Max of Santa Clarita 2018 & 2019
Re/Max Hall of Fame Member
Chairman's Club, Re/Max International 2019
Platinum Club, Re/Max International 2014-2018
Rookie of the Year South Coast GMAC 2008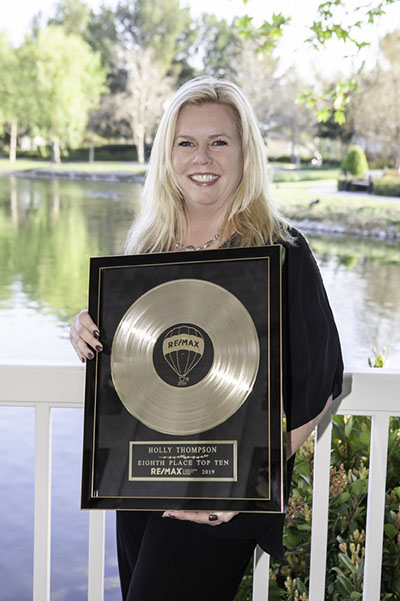 Home Prep & Staging
Photos are everything in this world of online home shopping. In order to have the best pictures, most homeowners need a little staging or "set design". I work with professional and experienced stagers on my listings to make sure we are giving the photographer every opportunity to highlight your home. Every seller receives a complimentary consultation that provides my sellers with a "to-do list" to focus on. From there, if we need more furniture brought in or more styling done, then we can work with these stagers to find a solution that works best for each seller.
Area Tours for Prospective Relocating Buyers
Working to recruit an employee for your company but they have their questions about moving to Southern California? Let me share my enthusiasm for the Santa Clarita Valley with them! I will design a complementary area tour for your prospective employee that will answer their questions about relocating to the Santa Clarita Valley, give them a realistic idea of what their life would look like once they are settled, and make them a huge fan of the Santa Clarita and Stevenson Ranch!
Negotiation
Oh my! So much to say about this one… from the minute the buyers set foot in a home to the final closing, there is so much to negotiate! I believe that negotiation skills are one of the most important skills a realtor can have. For that reason, I have made it my focus to always be learning and developing my negotiation skills. No matter how fun or smooth a transaction is, my buyers and sellers can be assured they have me working non-stop to increase their bottom line.
Selling Your Home
No other agent in the Santa Clarita Valley is able to blend personal touch with state of the art marketing like I can. I contract with two professional marketing companies that allows me to systematically roll out a marketing plan that is consistent and top-notch for each listing, all while maintaining that personal connection and high level service with my sellers. From digital advertising with targeted ads, to print brochures, to realtor networking, to the social media "buzz", so much goes in to making sure your home gets the maximum amount of exposure so that we can get you the highest price possible with the least amount of stress.
Helping You Find Your Home
Whether you have been in the Santa Clarita Valley for years or just moving here, I can help you find the right fit for neighborhood, schools, and community. Our valley is diverse and each neighborhood has it's own "vibe". By getting to know you, I am able to help you find the best fit. Once we focus in on a few neighborhoods, I have the advantage of being a part of a great networking group with the valley's top producers as well as being a part of Re/Max of Santa Clarita to help find homes before they come on the market.
Client Care Program
A home closing is only the beginning of how I take care of my past buyers, sellers, and supporters. I am always giving back to those who have been a part of my success. Holiday deliveries throughout the year, special offers with local businesses, access to my home improvement network, client appreciation events, and special birthday gift cards are some of the ways I show my gratitude for being a part of my growing business.
Out of Area Realtor Referrals
Moving out of the area or wishing you had a realtor you could depend on to sell your home? Let me know as I have a great network of realtors across the country who I can connect you with! I will make sure you get the personal, dedicated service you have come to expect!
Corporate Relocation
I work with all of the major relocation companies in the country to make sure your relocation is as smooth and profitable as possible. You don't have to work with whoever the relocation company sends you- you can request me! I bring the same high level of service and attention to detail, all while working with the relocation company to meet their requirements. Just let me know if you'd like more information on moving to or from the Santa Clarita area using a relocation company.
Short Sales
If you are a homeowner who is having a hard time making your payments, there are options. Please call me and know that I will answer your questions thoroughly and confidentially. For buyers, navigating the waters through a short sale can be daunting but I can help!
New Home Sales
Did you know in California that most home builders sales reps only represent the builder? There is SO much that goes on in the new home buying process that you need representation. The builders will dump a pile of paperwork on your lap and tell you to sign it all within a short time. That information is the seller disclosure packet that we spend days going over with our buyers when we represent them. I go to the design center with the buyers to help them determine which upgrades are best done by the builder and which would be a better deal if it was done after escrow. I help you find the right lot that will also keep resale in mind. Most important, I offer a FREE home inspector by a licensed contractor who will make sure your home is 100% perfect before you close. We have caught SO many issues that had would have likely been caught when the buyer is selling their home and it would have been too late to get the builders to make the corrections. You definitely need representation to make sure you get a complete disclosure packet and you sort through was is most important. Feel free to call me and we can discuss!
Client Care Program
Taking care of my clients and friends is something I enjoy so much. I decided long ago that rather than spend my efforts and resources on ads on park benches and shopping carts, I was going to give back to the people who support and trust me. My team and I work hard to make sure each transaction is a memorable experience. Buying or selling a home is a VERY exciting time so we do everything we can to make it special. From personal address change cards to a box delivery to custom cookies to personalized staging consultations, we try to go above and beyond with our clients. I also keep in touch for years later with personal deliveries and invitations to client events. It's important to me to share my successes as none of this would be possible if I didn't have the support and trust of my friends and clients!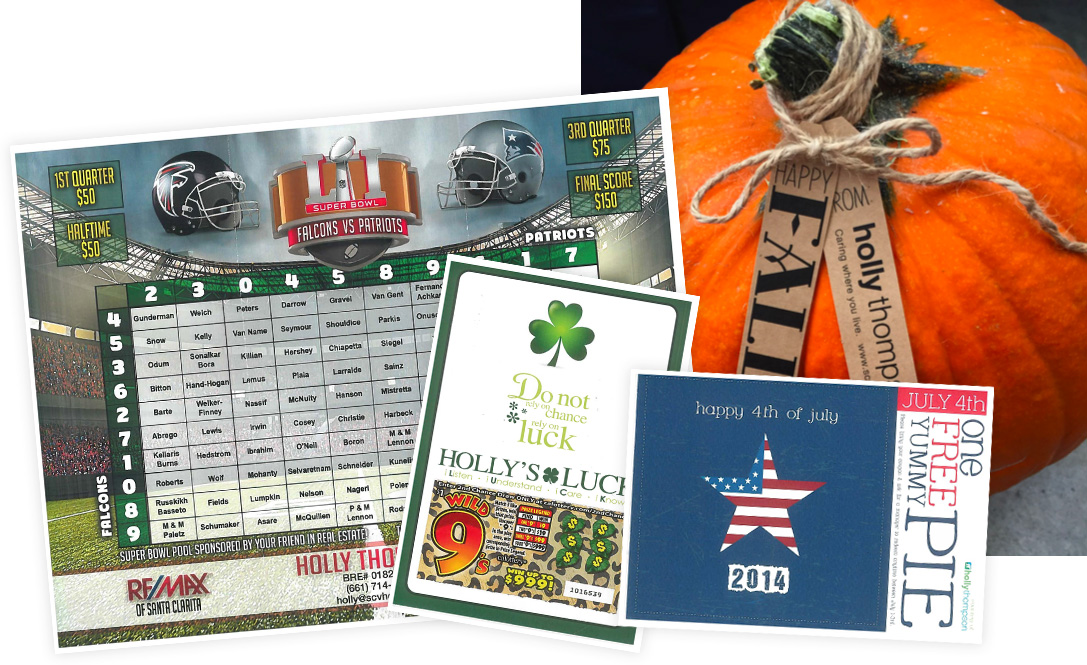 Connections
I truly believe that the connections I've made living and working in the Santa Clarita Valley since 1988 help me help my clients and friends! Whether it be a referral to a trusted contractor or a need for the "inside scoop" on the best teachers at a new school, or finding a home for my buyer that hasn't hit the market yet, connections are so important! I've built my network over the last 30+ years and am so thankful for the chance to share that with my new clients and family.
Holly is great. Professional, personable and patient. She is readily available to help and also very knowledgeable about the area. We moved from out of state and she went above and beyond to help us. I highly recommend her to be your realtor!
I can't say enough about Holly! She made the process so easy and without stress. She listened to what we were looking for and what our budget was. She has a wealth of knowledge about the Santa Clarita Valley. And it didn't end with our closing. She has people for anything and everything you may want done. And in ending I want to say I feel like I gained a house I love, a realtor and a friend forever! 5 stars for sure!
It was a real pleasure working with Holly. She went beyond and above our expectation in purchasing our new beautiful house. She also helped sell our old house in a heartbeat. In the future I would definitely use her service again when buying or selling any real estates.
Networking
In 2019, I was invited to become a part of the Santa Clarita Networking Group, a group of 20 Top Agents in the SCV and their buyers' agents. We meet weekly at our groups new listings to connect our buyers and sellers. This means that our sellers get maximum exposure as well as our buyers getting the scoop on homes that are coming on the market soon. It's been an amazing group and I'm not quite sure how I got by before without it!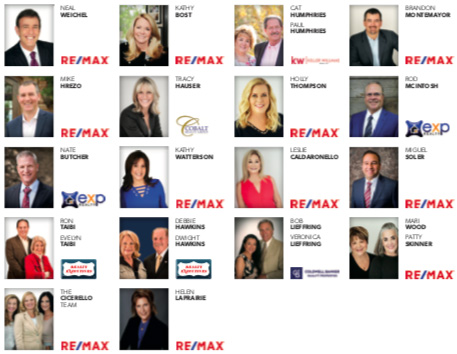 Power of Re/Max of Valencia
I'm honored to be a part of Re/Max of Valencia! We have the highest producing, most ethical and professional agents in the Santa Clarita Valley. Not only do we have the amazing tools and reputation that comes along with Re/Max as a whole, I have access to more legal and technical advice than any other company in the valley.
There is no other company in this valley that would bring my buyers and sellers more care, direction, and connections than Re/Max of Valencia (also known as Re/Max of Santa Clarita and Re/Max Gateway.)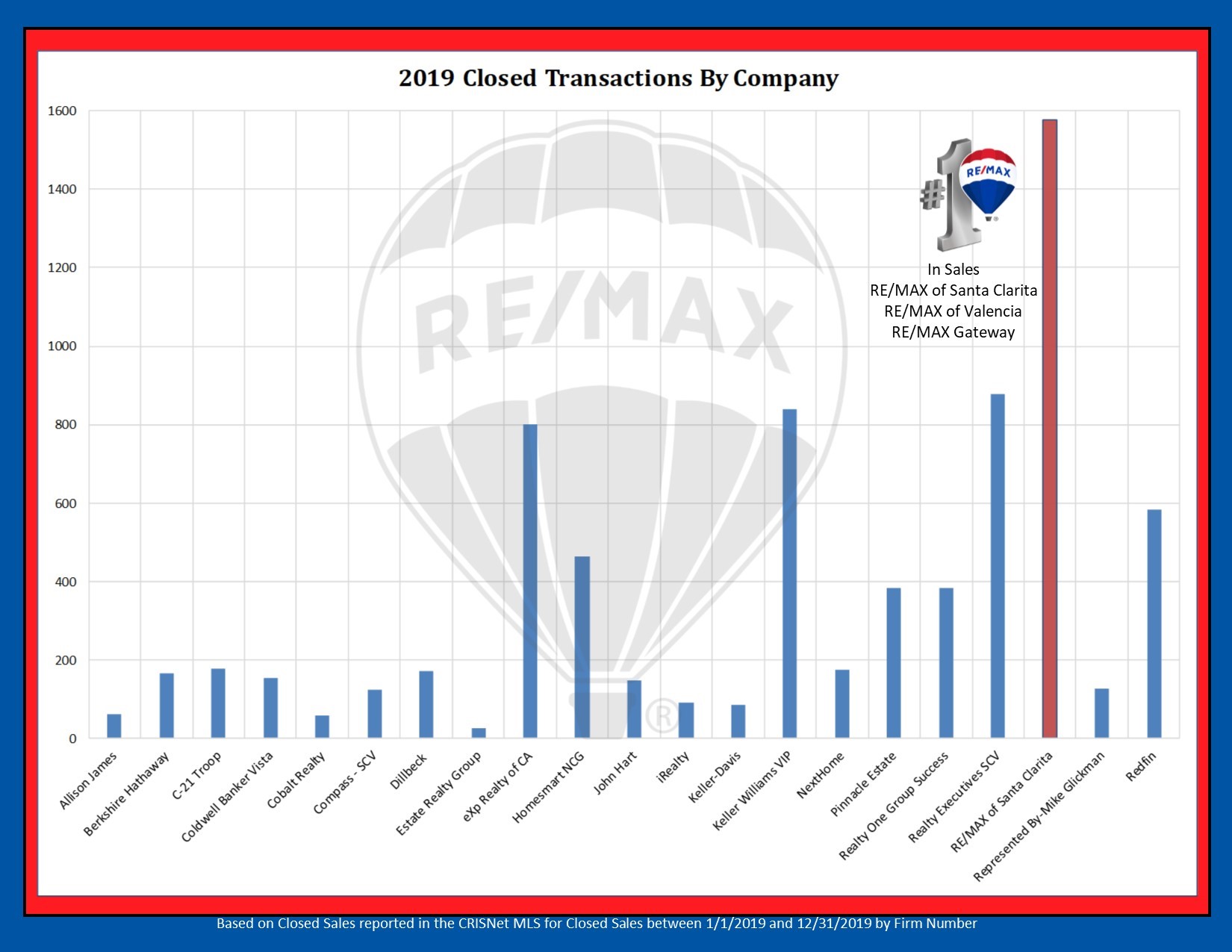 Home Care Contractors
From home contractors to personal doctors to auto mechanics to local businesses, I've got someone for you! I love to connect you with good, honest, fairly priced businesses. Between our personal home remodeling and all of my clients and friends' home repairs and remodeling, I have someone for just about anything you might need! Many of these contractors have worked with my clients for years and years so they know my expectations. I have also weeded out a lot of not so ethical or unresponsive contractors as well! Let me know who you need and I'll find a good match for you!